Reliable Server Monitoring at an Affordable Price
Don't be the last one to know your website is offline or your server is on a spam blacklist.
Unlimited International SMS, Pushover, twitter, Email Alerts, and more...
One Minute Check Intervals
No Contract, Cancel Anytime
Free 15-Day Trial!
Monitor 5 sites or services for $8/Month
Monitor 200 sites or services for $15/Month
Sign up for your free 15-day trial
Easy to get started - no credit card required
Unbeatable Pricing
Plans starting at just $8/month that include unlimited international SMS. Our Provider plan also includes unlimited international voice call alerts as well as webhooks
Outstanding Website Monitoring
Our HTTP checks can verify your SSL certificates (https) as well as verify that content is present.
Complete Email Services Monitoring
NodePing's email monitoring will keep a close eye on all yourSMTP, POP3, and IMAP4 services as well as alert you if your IP addresses show up on spam or malware blacklists.
Full Range of Check Types
HTTP, HTTP Content, SSL Certificate monitoring, SSH with response matching, DNS query monitoring, ICMP Ping checks and more...
Advanced Tools for Service Providers and Resellers
Hosting companies and web development businesses will find integrating monitoring with their other services both profitable and easy with our full REST API and WHMCS module.
Profitable Referral Program
Tell others about NodePing and receive a generous referral bounty.
Starter $8/month
Business $15/month
Provider $50/month
5 Monitors Included
$0.50 each additional
200 Monitors Included
$0.40 each additional
200 Monitors Included
$0.25 each additional
One minute intervals
One minute intervals
One minute intervals
Unlimited Notifications
Unlimited Email
Unlimited SMS
Unlimited twitter
Unlimited mobile Pushover
Unlimited Notifications
Unlimited Email
Unlimited SMS
Unlimited twitter
Unlimited mobile Pushover
Unlimited PagerDuty
Unlimited Webhook
Unlimited Notifications
Unlimited Email
Unlimited SMS
Unlimited twitter
Unlimited mobile Pushover
Unlimited PagerDuty
Unlimited Webhook
Unlimited Voice
Notification Branding
Notification Branding
Subaccounts
Subaccounts
WHMCS module
More
More
More

$8 / month

$15 / month

$50 / month
Regional probe servers in North America, Europe,
Latin America, and East Asia/Oceania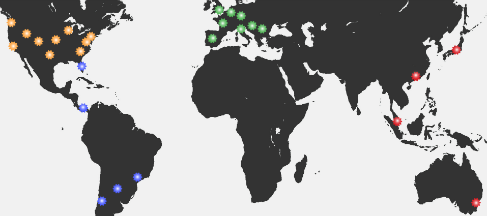 Trusted by